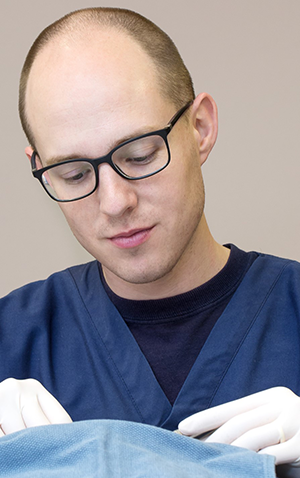 What is Mohs Surgery?
Mohs surgery, also called Mohs micrographic surgery, is a specialized surgical technique for removing skin cancer. Dr. Frederic Mohs developed the technique in the 1930s, and it has been modified and refined over the years. It is the treatment of choice for many skin cancers and offers the following advantages:
Highest cure rate: The tissue is prepared, mapped, and examined in our lab, allowing for microscopic evaluation of 100% of the deep and peripheral margins in order to precisely remove all of the cancerous cells.
Best cosmetic result: There is no need to take a large margin of healthy skin in Mohs surgery; therefore, the size of the wound left after tumor removal is minimized. Keeping this defect small optimizes the surgical repair and produces a superior cosmetic result.
Mohs surgery is commonly performed to treat non-melanoma skin cancers (basal cell carcinoma, squamous cell carcinoma, and many others). Additionally, our laboratory utilizes special immunohistochemical stains to treat thin melanomas as well.
Mohs surgery is an outpatient procedure that is performed under local anesthesia; therefore, the risks associated with prolonged general anesthesia are avoided. Before the surgery begins, a small needle is used to place the numbing medicine in the area surrounding the skin cancer. The surgeon then removes the obvious skin cancer that can be seen with the unaided eye. Next, a very thin saucer-shaped layer of normal appearing skin is removed taking special care to map the tissue. The tissue is then processed by the laboratory located in our office and a detailed map is constructed – a process that takes approximately 60-120 minutes. Microscopic slides are prepared and then examined by the surgeon to determine if the cancer is persistent.
If microscopic examination reveals remaining tumor at the margin, then further tumor excision is required. After returning to the surgical suite, additional anesthetic is injected to reinforce the initial injection. In most cases, the area is still numb and little to no discomfort is felt. Another layer of tissue is then removed – only where the map indicated residual cancer. This tissue is again brought to the laboratory, and the process is repeated until all cancer is removed. Once all the cancer has been removed, we will then discuss the options to reconstruct the resulting defect or open wound. This usually requires stitches.
Because the number of stages (or layers) involved with each case is unpredictable, it is impossible to know how long the surgery will take. For this reason, it is important for patients to plan on spending the entire day with us, although most patients are only in the office for half of a day. Do not be discouraged if the cancer is not removed in one step since tracing of the cancerous roots of the tumor is conducted in small layers. Bring a good book and whatever else will help keep you comfortable while you are with us.
Why choose a fellowship-trained Mohs surgeon?
The American College of Mohs Surgery (ACMS) offers fellowship training programs that are more rigorous and thorough than other Mohs programs. ACMS fellows experience extensive, hands-on training from highly qualified instructors. In choosing a fellowship-trained Mohs surgeon, you will receive the highest standard of quality and expertise. Mohs micrographic surgery has set the standard for skin cancer treatment; however, not all physicians performing Mohs surgery receive the same level of training.
Dr. Adam Wright has earned the highest degree of qualification in Mohs surgery by completing an ACMS approved fellowship in micrographic surgery and dermatologic oncology at the Mayo Clinic.
Are there different types of skin cancer?
Yes. The most common type of skin cancer is basal cell carcinoma. Often these skin cancers are very subtle and appear like a small pimple that will not heal and will often bleed. The second most common skin cancer is squamous cell carcinoma. This type usually appears as a thickened, scaly plaque or nodule. Melanoma is an additional type of skin cancer, which behaves differently than either basal cell carcinoma or squamous cell carcinoma. It most commonly appears as an abnormal mole.
Are skin cancers life-threatening?
Fortunately, the two most common types of skin cancer, basal cell carcinoma and squamous cell carcinoma, are rarely life threatening. As a general rule, basal cell carcinoma does not spread to the lymph nodes or other parts of the body. Compared to basal cell carcinoma, squamous cell carcinoma has an increased risk to spread to other parts of the body. Fortunately, distant spread is uncommon when the cancer is caught and treated early. However, both tumors will continue to grow locally and destroy normal tissue. Alternatively, melanoma can be life threatening if treated late. Basal cell skin cancers and squamous cell cancers never "turn into" melanoma.
How large of a scar will I have from the surgery?
The size of the scar depends on the size of the tumor, and it can be difficult to predict the exact size of the tumor prior to surgery.
Will I have stitches following the surgery?
Most patients will require stitches. Please keep in mind that our goal is the best long term cosmetic result. This may initially require extensive suturing. In addition to wound size and location, the surgeon considers other factors in determining how your wound will be handled. The primary options are as follows:
Direct closure of the wound with stitches: This is the most common method.
Skin flap: In some instances, skin that is located near the wound is moved to fill the defect left from surgery.
Skin graft: In certain situations, it is appropriate to take skin from a site distant from the wound (usually inside, in front of, or behind the ear; on the clavicle; or on the inner arm) and use it to cover the surgical defect.
Let the wound heal in by itself ("second intention wound healing"): The body has an excellent capacity to heal open wounds. This healing period is approximately three to six weeks depending on the size of the wound. If your wound is left to heal by second intention wound healing, we will go over additional wound care techniques with you and likely add vinegar compresses to your care regimen.
Will I be put to sleep for the surgery?
No. The surgery is well tolerated with local anesthesia. Because the surgery may be time-consuming, the risk of prolonged general anesthesia is avoided.
How long will the surgery last?
The length of surgery depends on the extent of the tumor and can last half a day or longer. Much of the time is spent waiting for the tissue to be processed. Bring reading materials, needlework, etc., to help pass the time. Also, you may want to bring a snack or lunch with you on the day of surgery.
Should I bring someone with me?
It is often helpful to bring someone with you on the day of surgery. Depending on the size and location of your tumor, driving can sometimes be a challenge after surgery. Additionally, if someone other than the patient will be performing post-op wound care, it is best to have this person present so that we may give this person direct instructions, demonstrate wound care, and answer any questions about the surgery.
What should I wear?
You should wear comfortable clothing. You may want to bring a sweater as our office is kept very cool for the laboratory equipment that is needed for the procedure.
Should I eat breakfast before surgery?
Yes. Breakfast is recommended.
Should I take my regular medications on the morning of the surgery?
Yes. Take your regular medications as they have been prescribed. Please CONTINUE to take your blood thinners as prescribed (aspirin, Coumadin® or warfarin, Plavix®, Ticlid®, etc).
Will my activity be limited after surgery?
Yes. Physical activity, including sports, will be limited for the first week following surgery. If your work requires significant physical exertion, you may be out of work for several days after surgery or need to be limited in your duties. An excuse for your absence or limitations will be provided if necessary. If possible, avoid planning a trip for the week after surgery. If you have any questions or special situations, please do not hesitate to call our office.
What are my restrictions following surgery?
Do not drink alcohol for 3 days following surgery and avoid using tobacco for 3 weeks after surgery. These result in increased bleeding after the procedure and can slow/impair the healing process.
If the procedure was on your face, do not bend over in the days following the surgery. This can result in blood rushing to your face and cause bleeding from the wound.
Do not participate in high-energy athletics while the sutures are in place.
Do not lift anything heavier than 10 pounds for 2 weeks after the procedure.
Do not vacuum for 1-2 weeks after the procedure. This activity increases your heart rate and could increase your risk of bleeding.
Do not submerge your surgical wound under water until the sutures are removed. This includes bathing, swimming, and hot tub use. You may shower 24 hours after the procedure.
Is any sedation necessary for this procedure?
No. However, a mild sedative can be provided in some circumstances to help you feel calm during the procedure. This medicine may make you feel sleepy and/or cause you to forgot some details of the day. If taking this medication, you will absolutely require a driver on the day of surgery. Every person reacts differently to sedation. You may have lapses of memory, slowed reactions, and/or impaired judgment the day of and the day after surgery. If you receive sedation, for the first 24 hours after surgery: you should not drive or operate heavy machinery, make important decisions or sign legal documents, assume responsibility for anyone dependent on your care, drink alcohol, or participate in sporting activities. A responsible adult should stay with you for the remainder of the day.
What are the potential complications of surgery?
Bleeding and infection are the two primary complications. Both of these are uncommon and can be treated if they do occur. We will discuss how to recognize and deal with these problems when you come for your surgery.
Although not considered complications, you should expect bruising and swelling for several days following surgery.
When will my scar start to fade?
It often takes a full year for the healing process to be completed. Most of the significant changes are in the first 6 months. Your scar will go through several stages of healing before the redness fades and it settles down into a fine, light-colored line.
When will the area of my surgery feel normal again?
It is often necessary to cut small, superficial nerves during the removal of the skin cancer. These nerves provide sensation to the skin, but they do not perform motor functions. For a majority of patients, abnormal sensations are minimal or not observed. Occasionally, you may experience numbness, tingling, or a crawling sensation in the months after the procedure as nerves grow back. For a minority of patients, it can take up to 1-2 years for normal sensation to return. While for a lesser minority, normal sensation does not completely return.
Why does my scar feel lumpy?
You may feel bumps and lumps under the skin. This is normal and is due to the dissolvable sutures under the surface of the skin. These deep sutures take months to completely dissolve and the scar will not be smooth until this time. Occasionally a red bump or pustule forms along the suture line when a buried stitch works its way to the surface. This is only temporary, and applying a warm compress to the spot usually helps it resolve. Please do not pull on these "spitting" sutures. If it does not resolve, please call us.
Why is my scar puffy and red?
2 months after your procedure, your scar will look its worst as it goes through the contraction phase of wound healing. After that time, the scar will smoothen and the redness will fade. For scars that remain puffy or "hypertrophic" 4-8 months after the procedure, small procedures can be performed to help with the appearance. If this is something you think you might require, please do not hesitate to call us for an appointment.
Can my wound open up?
During the first several weeks following your surgery, your wound is fragile. Be careful not to pull or tug on it as it could break open. It will take the area a full 6 months to return to 80% of its original strength.
When may I apply make-up or sunscreen?
You may apply make-up and/or sunscreen after the sutures are removed and the wound is completely healed (no oozing areas). Once healed, good sun protection is important as the 'new skin' in the wound area is sensitive to sun.
Should I use anti-scar creams or massage?
Generally, these products are not harmful, unless they irritate your skin or you become allergic to them. There are a number of creams and products that help to moisturize the wound, which may help improve the healing. Plain Vaseline® works best, is inexpensive, and non-allergenic. Daily massage of the scar for 10-15 minutes a day can help the scar fade. You should wait at least 8 weeks before starting massage to avoid stress on the scar.
Remember it can take a full year for your final result. Patience is the key; but if at any time you feel you need to be seen or just need reassurance, please do not hesitate to call.
Will my insurance cover the cost of surgery?
Under most circumstances your carrier will pay for surgery. If you are in doubt about your particular coverage, you should check with your insurance representative prior to your appointment. If you have specific questions regarding insurance or billing matters, please contact our office at 865-450-9361.
We look forward to making sure your experience with Mohs surgery is a positive one. Please do not hesitate to call with any questions or concerns prior to or after your surgery.
Dr. Adam C. Wright
Knoxville Institute of Dermatology
Mohs Micrographic Surgery