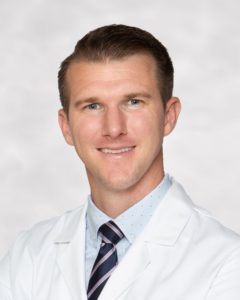 Kegan graduated with honors in 2008 from the United States Military Academy at West Point, with his B.S. in Mathematical Sciences. After graduating from West Point, he was commissioned into the United States Army where he spent 3 years as an Air Defense Artillery officer in Germany before being accepted into the Interservice Physician Assistant Program (IPAP) through the University of Nebraska Medical Center. After graduating top of his class and being inducted into the Pi Alpha National Honor Society, Kegan earned his Master of Physical Assistant Studies in 2014.
Kegan began his career as a Physician Assistant with the Army at Fort Bliss in El Paso, Texas serving as a primary care physician for infantry and armor soldiers.  Following his time at Fort Bliss, he attended the Army Flight Surgeon Course and served as an Army Aeromedical Physician Assistant for an apache helicopter battalion for three years. During his tenure in the Army, he also participated in two deployments.
Kegan and his wife, along with their two daughters moved to the Knoxville area after his 10 years of service in the Army. Early in his training as a Physician Assistant, Kegan developed a love for dermatology. His passion for the field and his dedication to serving others, as he has served our country, allows him to provide exceptional care for his patients.
Please join our team in welcoming Kegan Reilly, PA-C to Knoxville Institute of Dermatology!