Due to growing concerns regarding COVID-19, our practice is now offering TeleDERM services.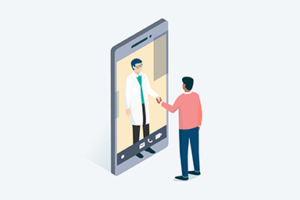 TeleDERM allows our physicians and advanced practitioners to provide health care to our patients at a distance using a cell phone, tablet, or computer. By scheduling a TeleDERM appointment, your provider will be able to assess and counsel varying conditions such as acne, rashes, and individual skin lesions through real time audio and video capabilities.
Steps to Check in to your video visit:
Use a computer or device with camera/microphone.
Enter personalized room link provided by physician via email into web browser.
Type in your name and click "Check In".
Allow your browser access to camera/microphone
Your provider will start your virtual visit.
You can also view these instructions here. To schedule your TeleDERM appointment, please call our office today.