Summer is finally here!! For many that includes basking in the sun for endless hours. Whether spending time at the beach or enjoying time with family in your backyard, it's important we remember sun safety. Getting too much sun puts us at risk for developing a skin cancer, even a melanoma.
Did you know?
Nearly 9,500 people are diagnosed with a skin cancer everyday.
1 in 5 individuals will develop a skin cancer in their lifetime; and one person dies from melanoma every hour.
Experiencing even one blistering sunburn during childhood or adolescence can double a person's chance of developing a melanoma. In fact, experiencing 5+ blistering sunburns between the ages of 15-20 increases your risk for melanoma by 80% and non-melanoma skin cancer by 68% .
Skin cancer does not discriminate by age, gender, or race. By eliminating our exposure to UV lights, we are significantly reducing the risk of  developing one of these cancerous lesions.
Click the link to learn more about skin cancer and how KID can help you. https://dermatologyknoxville.com/services/skin-cancer/
How can I protect my skin this summer?
Start by diligently applying a broad-spectrum, water-resistant sunscreen with a minimum SPF 30 (AKA the 3 essentials) every two hours.
Seeking shade
Wearing Ultraviolet Protection Factor (UPF) clothing and a wide-brimmed hat (3" or greater).
To find out more information on sun protective clothing, visit https://www.skincancer.org/prevention/sun-protection/clothing
Is this sunscreen right for me?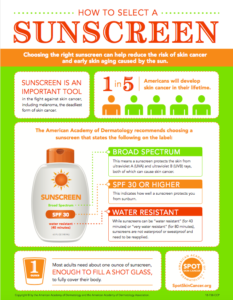 By choosing an appropriate sunscreen, not only are you reducing your risk of developing skin cancer, you are also working to prevent early skin aging (because who wants wrinkles and leathery skin, right?!). One thing to consider when making your selection, is whether or not you want your sunscreen to be a physical or chemical based product. You should also consider your skin conditions and skin type. For more sunscreen tips and FAQs, visit https://www.aad.org/media/stats/prevention-and-care/sunscreen-faqs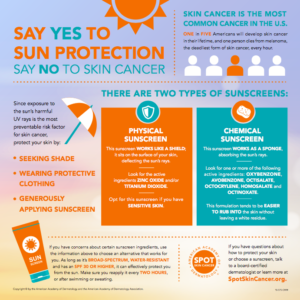 Our Top 5 Sunscreen Recommendations
EltaMD UV Clear Broad-Spectrum SPF46 Facial Sunscreen
Neutrogena Ultra Sheer Dry-Touch Sunscreen SPF 100
Blue Lizard Australian Sunscreen SPF 30+
Supergoop! Unseen Sunscreen Broad Spectrum SPF 40
La Roche-Posay Anthelios Clear Skin Dry Touch Sunscreen SPF 60
Here at Knoxville Institute of Dermatology, we encourage everyone to perform at home, regular self-exams and to schedule a skin check appointment with one of our board-certified dermatologists. For more information on skin care, sunscreen, and skin cancer prevention, please visit aad.org.
Sources:
American Cancer Society. Cancer Facts & Figures 2019. Atlanta: American Cancer Society; 2019.
Dennis, Leslie K. et al. "Sunburns and Risk of Cutaneous Melanoma, Does Age Matter: A Comprehensive MetaAnalysis." Annals of epidemiology 18.8 (2008): 614–627.